What we create today are our dreams for tomorrow......
Established 1990

*Please note: This site is best viewed on a laptop/computer. It
can be viewed on a phone but is too large to display correctly.
Welcome to Pinewood Acres. I am a 32+ year Show/Preservation Breeder of quality AKC Shetland Sheepdogs and Chihuahuas. I am located in central Maine. I am an AKC Breeder of Merit and an AKC Bred With H.E.A.R.T. Member. I started out in Obedience with Shetland Sheepdogs but then I got hooked on Showing in Conformation Events, which is still my primary interest today. Due to my medical issues, I do not have any Sheltie litters planned at this time but if you are interested in a quality Sheltie puppy, feel free to email me and I can direct you to other reputable Breeders in the area. I Show/Breed Long Coat and Smooth Coat Chihuahuas in a variety of colors, including merle. All of our breeding age dogs are OFA Health Tested and I have also started doing Embark DNA testing as well to further ensure the health of future litters. My goal is to improve the Breed and never do it any harm.
As soon as she could walk, my daughter Paige started following me to shows and immediately took an interest in showing the dogs. Words can not express how proud I am of her and her accomplishments. She not only showed/pointed several of our dogs, and other peoples dogs, but she also finished her own Collies and made the Top 20 Junior Handlers for 2004. Please visit Paiges link below(click on her picture). You will need to use your browsers back button as these pages are from our old site.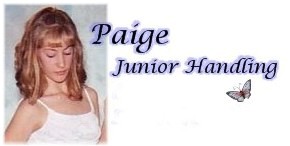 I breed primarily for myself, with the hopes of breeding my next Champion in the Conformation ring. I only breed from stable/sane/happy, AKC GCH, Champion, Champion Sired, or from heavy Champion background Sires and Dams, who are health tested/have no known health issues themselves, or behind them. Of course, not all puppies are Show puppies, so occasionally I offer quality puppies to loving companion homes only. Quite often many of the puppies that I offer for sale as Pets are Show Quality as there is a limit to
how many males I can keep and my girls have to be big enough to safely breed as well. All of my Pet puppies come with a Health Guarantee and a lifetime of Breeder support.
I hope that you will stay awhile and enjoy browsing thru my pages. My site can be navigated by using the side bar, the foot bar, by clicking on any under lined or hi-lighted words or by using your browsers back button on some of my older pages, or pages that go back to multiple areas. You can find a wealth of information on my Important Info page and I also have a FAQ page where you will find that most of your questions can be answered. Please feel free to email me if you have any other questions.